Cherox (JW) Precision Engineering Sponsors Page
Cherox (JW)Precision Engineering sponsor numerous local sporting clubs. It is our commitment to the local region to provide, where we can, sports teams with kit and equipment. Below are some of the Sports Clubs that we currently sponsor.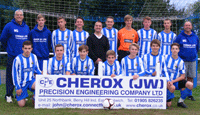 PERSHORE TOWN - Cherox (JW) are proud to announce the sponsoring of Pershore Town Football Club.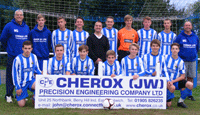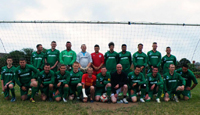 FORESTERS ARMS FOOTBALL CLUB.
The idea of the team was formed by manager Ray Pearce, club captain Jamie Plant and Vice-captain Mark Hill and assistant manager Graham Jones in January 2013, the club was officially established in June and they were accepted by the Worcester & District Football Association to be entered straight into division three. There are six leagues consisting of a Premier Division and five lower leagues.
The team play their home games from Malvern's Dukes Meadow playing field which is situated just off Pickersleigh Road, where they ground share with Express Football Club.
They are supported by local public house The Foresters Arms which is a five minute walk from the ground and is found in Barnards Green, Malvern.
A club committee was formed and consisted of Darren Yong as Secretary, Jamie Plant as Treasurer and Ray Pearce as Manager/Chairman. Committee members were also enlisted to ensure the club was run properly; on the committee were Nick Scott, Rich Plant, David Rudd, Paul Reece and Darryl Hergest.
The playing staff was selected from chosen talented individuals who were handpicked from top clubs playing in Malvern and Worcester and training sessions were advertised through social media where the door was open to everybody of all abilities.
The squad was made up of approximately 25 players all from different backgrounds, some who knew each other and others who were new and fresh to the idea. The age range varies from young lads who are playing their first season in men's football and are only aged 16 right up to players who are seasoned 'pros' who have played at a much higher standard.
Once the paperwork was completed and the club was officially accepted by the Worcestershire Football Association the club home colours of all green and the away colours of yellow shirts and blue shorts were chosen, the kit was purchased by a local business man who thrived off the idea of local men trying to build not only a football club, but to establish themselves as a force to be reckoned with.
Pearce then approached another businessman, John Wild of Cherox Engineering, with whom the pair had a strong relationship through working together on a previous project in the past, with the idea of sponsoring the side. A deal was thrashed out between the two and the club are enjoying a fruitful relationship with the engineering firm, that has seen the club have its ground rental payments paid in full by Cherox and also training wear was bought for every player.
The bond between the two has helped the club grow in stature and become one of the most recognised teams playing from Malvern in its very short existence and the financial backing has helped the club flourish financially in a difficult business to not only survive, but to make money which in turn helps the club purchase much needed equipment and makes them one of the most attractive teams to play for in Malvern.
On a final note a special mention must go to The Foresters Arms public house and all of the staff who have not only made the lads feel welcome but they also paid all of the league entry fees and affiliation fees and also to the land lady Brenda Ellis who puts on a superb spread for both the home and away teams.
#BOFG. We are the boys from Barnards Green.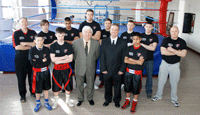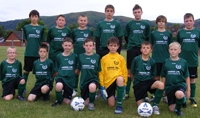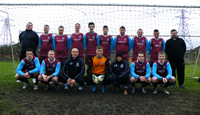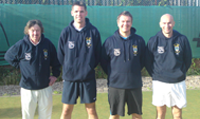 MALVERN TOWN WANDERERS - Cherox (JW) Precision Engineering are proud kit sponsors of Malvern Town Wanderers Junior team. Malvern Town Wanderers are an established Junior football club with over 20 years of history. There are teams form under 8 age group up to under 16's and the club is proud to be affiliated to the FA Charter Standard.
MALVERN TOWN RESERVE TEAM - Cherox (JW) Precision Engineering are proud kit sponsors of Malvern Town Reserves. Malvern Town Reserves currently play in the Worcester and District League, playing their home games at the Langland Stdium, Malvern.
QUARRY BANK TENNIS CLUB - Cherox sponsor Quarry Bank Tennis Club Mens and Ladies teams. We provide hooded tops for all team players.